Now is the time to submit your show vehicle for consideration—
before the November 15th deadline!
Motorcar Cavalcade Concours d'Elegance celebrates any and every distinguished vehicle—from the dawn of motoring to the most advanced hypercars in the world—therefore anyone may submit any vehicle for consideration by our Selection Committee.
Our Selection Committee reviews all applications and will accept entries that stand out from the rest; truly special, significant, newsworthy, distinguished, or unique vehicles. During the submission process, you will be asked to tell us about your vehicle—this information is then used by our Committee to assign what class your vehicle will be judged in. If your vehicle is accepted, you will receive an email in late Fall with confirmation instructions.

As a confirmed entrant, be prepared for a remarkable day immersed in the Art of the Automobile. This is your opportunity to share your favorite vehicle with your favorite people in a gourmet, all-inclusive grand garden party experience. So get your picnic blanket, best attire, favorite hat and driving gloves ready—we hope to see you on the lawn!
And so, submit for consideration now, as applications will far exceed available spots on the show field. To learn more about the event, visit The Event page!
We will be accepting vehicle submissions for the February 4th, 2024 event soon.
Follow us on social for all the latest information and sign-up for event updates via email!
In late Fall, acceptance emails will be sent out. This email will contain information on how to confirm your participation. Confirming your participation is critical to secure your spot on the show field. As a confirmed participant you will have access to:
"Although the cars are the stars of the show, equally as important is the social gathering—because the only thing more remarkable than these cars is the community they create; the camaraderie and fellowship of enthusiasts brought together through a unifying passion for automobiles and their desire to share it."
Unique to Motorcar Cavalcade is our approach to honoring all extraordinary vehicles – from the dawn of motoring, to the state-of-the-art, and all of the wonderful variants in between.
Although our cars will be on the show field being judged for awards, our ultimate goal is to provide a palette of design, engineering, style and history – for both our car community to enjoy – but perhaps more importantly, to invite in and share with the admiring public – folks who may not immediately understand what we perhaps take for granted – how incredible and important the art of the automobile is.
We take our classes, judging and awards seriously, however, our event is not as much about winning awards, as it is about sharing our passion for the automobile with others. Motorcar Cavalcade is designed to help our friends and family better understand our love of the automobile – and perhaps, to get them hooked as well!
And so, with that said, below, please find our classes for the February 4th, 2024 Motorcar Cavalcade Concours d'Elegance.
Please submit your vehicle(s) here (link) and provide as much thoughtful intel about your entry as possible and our Selection Committee will do the rest!
We will be reviewing and accepting cars on a rolling basis, therefore, timing does play an important part in being accepted to the event – as soon as the field is full, it will close and no new entries will be allowed in. Please submit your vehicle(s) as soon as possible for consideration!
We hope to see you on the show field come February!
To submit your vehicle, please use the form below. You will be asked to choose which class you would like your car to compete in during the submission process. Our Selection Committee will evaluate your choice and contact you if necessary, to discuss your car's placement.
Motorcar Cavalcade will present some of the world's finest automobiles, and to distinguish these vehicles, awards, and recognition will be given to the vehicles that stand above the rest—the vehicles with that certain "X factor."
Awards will be given per class—Best in Class and Runner Up—as well as "Major" awards, based on special, predetermined criteria. Unique to our event, all vehicles are eligible for our coveted Modern or Classic Era, "Best of Show" awards.
The Concours Committee will create groups of Judges who will be assigned to specific classes and Major award categories. It will be the Judges' responsibility to find the cars that best exemplify the merits of, and the emotional connection between, the specific award they are responsible for and the cars on the field.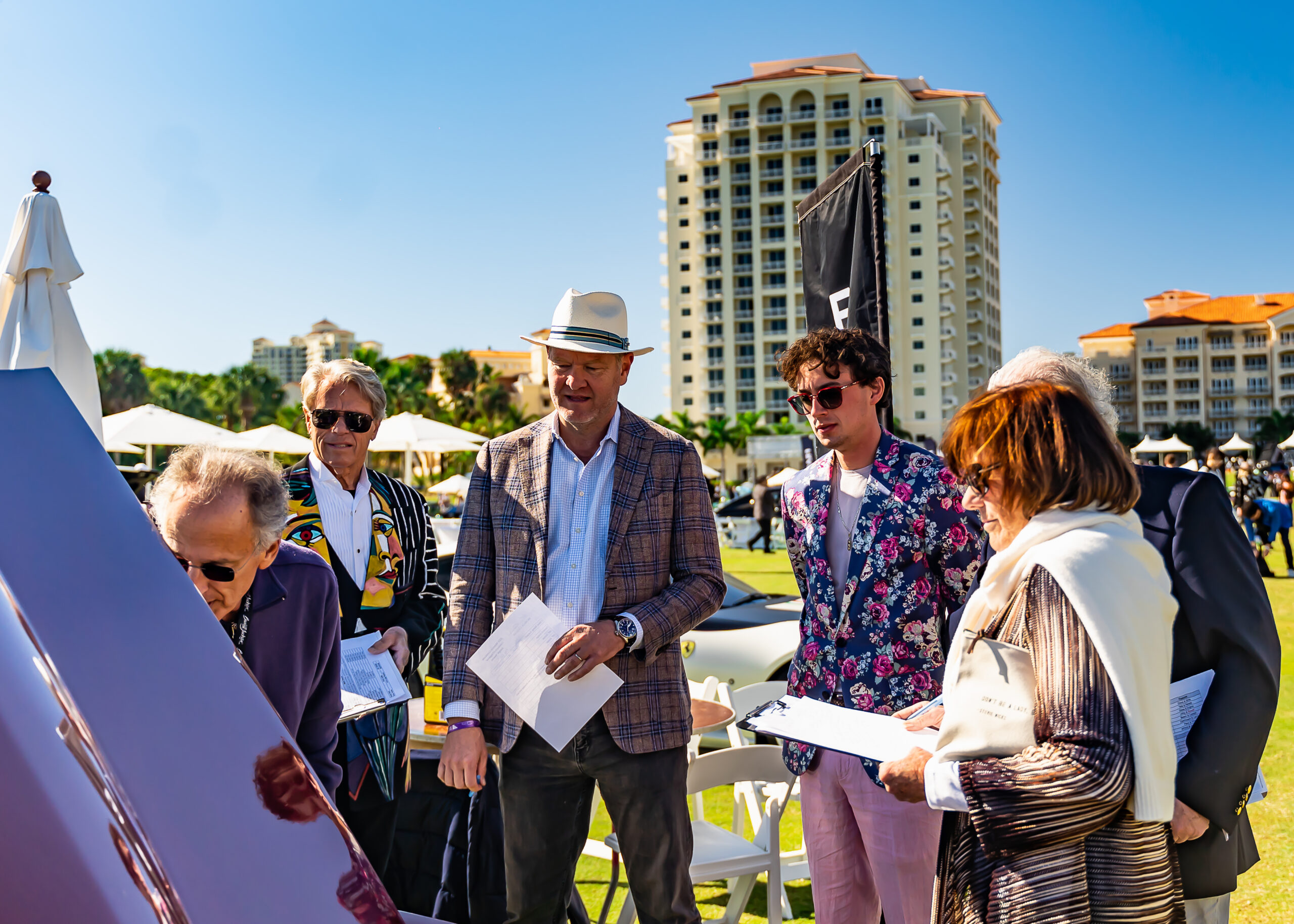 It is our goal to have remarkable people judging remarkable cars.
Our VIP Judges are just as unique as the cars they are judging; designers, historians, engineers, musicians, professors, CEO's, artists and more—their unique perspective will provide an unbiased evaluation of the cars on the field. This approach allows seemingly disparate cars to be evaluated together.
Our VIP Judges will be assigned experienced Docent judges to help guide the process. These technically and traditionally trained Concours Judges will ensure knowledgeable and experienced hands are present to help with tie breakers, special considerations and other variables that surface when dealing with the complex task of choosing amongst the finest and most exquisite cars in the world.
In addition to our "Award Judges" and "Docent Judges," our Chief Judge will oversee the showfield. All told, our judging and awards process is designed to allow a remarkable array of vehicles to be judged in the most dynamic, fair and enjoyable way—for entrants and spectators alike.